CMMG
Creative Minded Clothing (CMC), our merchandise and fashion footwear line, we inspire to give those UNIque creatives a way to display their own INDIVIDUALITY. #unicornlife 
Also, Creative Minds Media Group (CMMG) develops films, television series and other forms of media. We collaborate with women filmmakers and independent filmmakers of color, to best utilize and showcase their UNIque storytelling abilities in order to get their stories told.  We also give back by coaching, mentoring, consulting while and serving our community through our educational branch. STANDBY: CMMGTV COMING SOON!
PINK & PEARLS FOR THE GIRLS! Let the 90's come back! Inspired by the university sport spirit of the 70's
THESE SEXY WEDGES are handmade by master Italian craftsman from pristine Italian leather and cruelty free vegan materials
CreativeMindedCAMO For that Creative Minded MILITANT with NO LIMITS: TAKING Names and Kicking ALL ASS!
COME ON! GO this way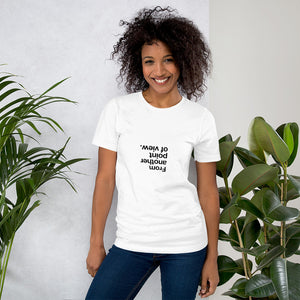 From Another POV Unisex T-Shirt
Sale price Price $21.50 Regular price
Do what it takes to get there
CMMG Presents "Behind the Scenes"